JOHN HOWARD RECEIVES IAM LIFETIME ACHIEVEMENT AWARD
John Howard received the Illinois Association of Museums (IAM) Lifetime Achievement Award on September 29, 2016, during an award luncheon in Oak Park, Illinois. He was accepted for the Lifetime Achievement Award due to his outstanding vision, impact, dedication and exemplary long-term commitment to Jefferson County Historical Society (JCHS) and its Village.
John has been a member of the JCHS since the late 70s. He has served on the board of directors, as president from 1993-1996, and as a longtime volunteer docent. He is one of the historians and is passionate about our mission, having assembled and created an extensive photo album of the history of the society and the creation of the village.
John was inducted into the JCHS Wall of Fame in 2012 for his continued dedication and outstanding contributions. This is the highest award given at the JCHS.
In addition to John's dedication to the JCHS, John sets an example as an outstanding member of Jefferson County and has many civic and community honors and awards as well. Some of his awards and contributions are listed below:
Illinois Humanities Council Studs Terkel Humanities Service Award, 2004;
City Councilman of Mt. Vernon, Illinois, 1997-2007;
Member of the Mt. Vernon City Schools District 80 Board of Education, 1963-1969 (president 1966);
Rotary International, Mt. Vernon, IL 1957 to present (past president,
Paul Harris Fellow, namesake of club's John Howard Community Service Scholarship at Mt. Vernon Township High School);
Mt. Vernon Township High School Outstanding Alumnus Award 2005 and Distinguished Alumnus 2007;
Founding member of the World Affairs Forum of Mt. Vernon;
Adult literacy volunteer tutor;
Jefferson County Red Cross director;
Disaster Mass Care co-chairman;
United Way, director and treasurer; and
Jefferson County Safety Council president and treasurer 1958-1961.
Pictured left to right: Anne Howard, Barbara (Howard) Lommen, John Howard, and Sharon Francois (JCHS Vice President and IAM Board Member).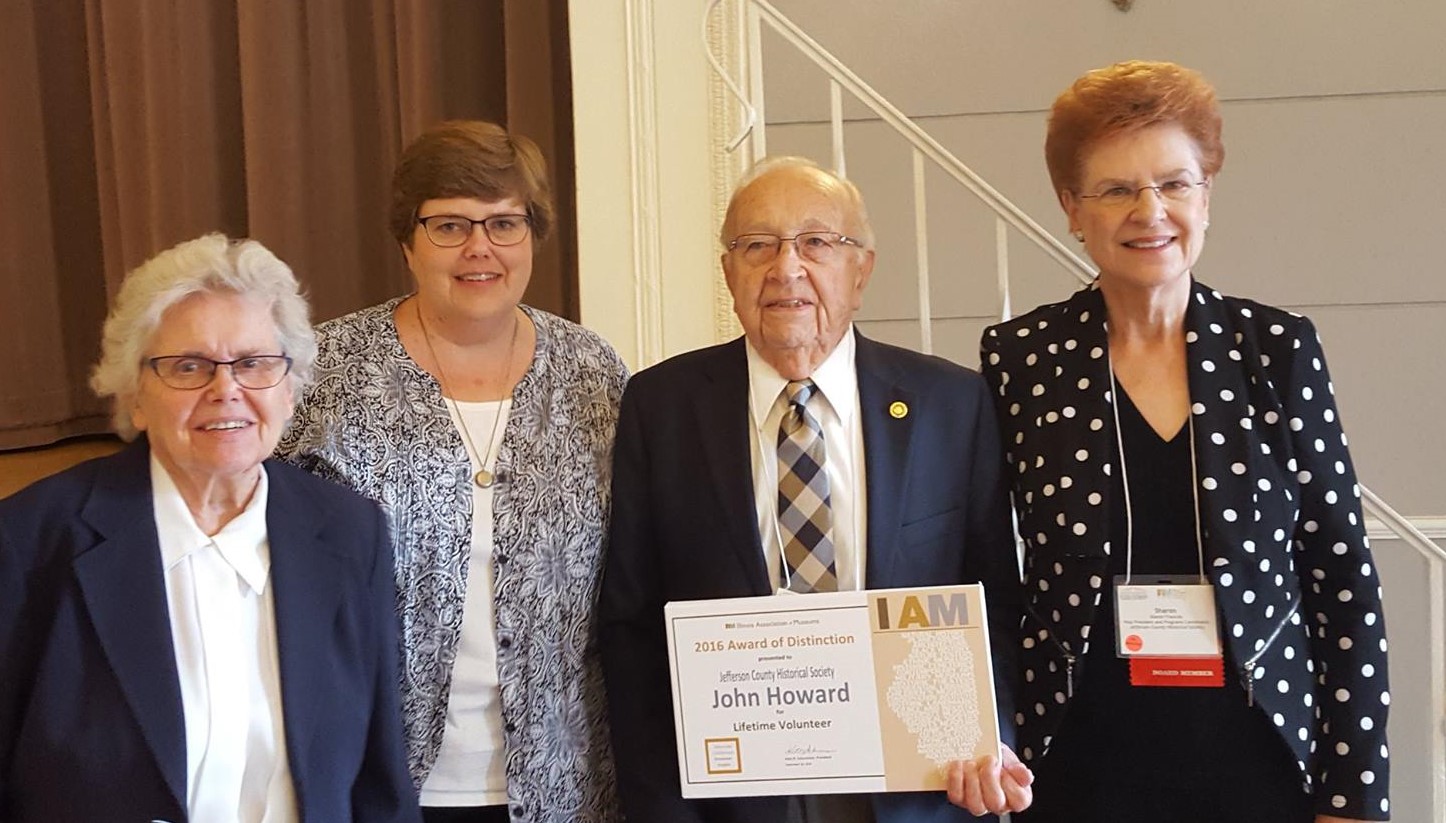 Save
Save
Save
Save
Save
Save
Save
Save